Project: Reservation Booking Website
Industry: Limousine and Car Service Transportation
Company: Bluesky Transportation
Project Overview:
Bluesky Transportation is a transportation company based in Manchester, New Hampshire. Despite being in business for 19 years, the company faced several challenges due to the COVID-19 pandemic. To tackle the problem of declining customer bookings and revenue, the company owner approached Tinktanc, to rebrand, redesign, and restructure the company website for a better user experience. Tinktanc was also responsible for running social media marketing, email marketing, and SEO campaigns to increase customer bookings and revenue.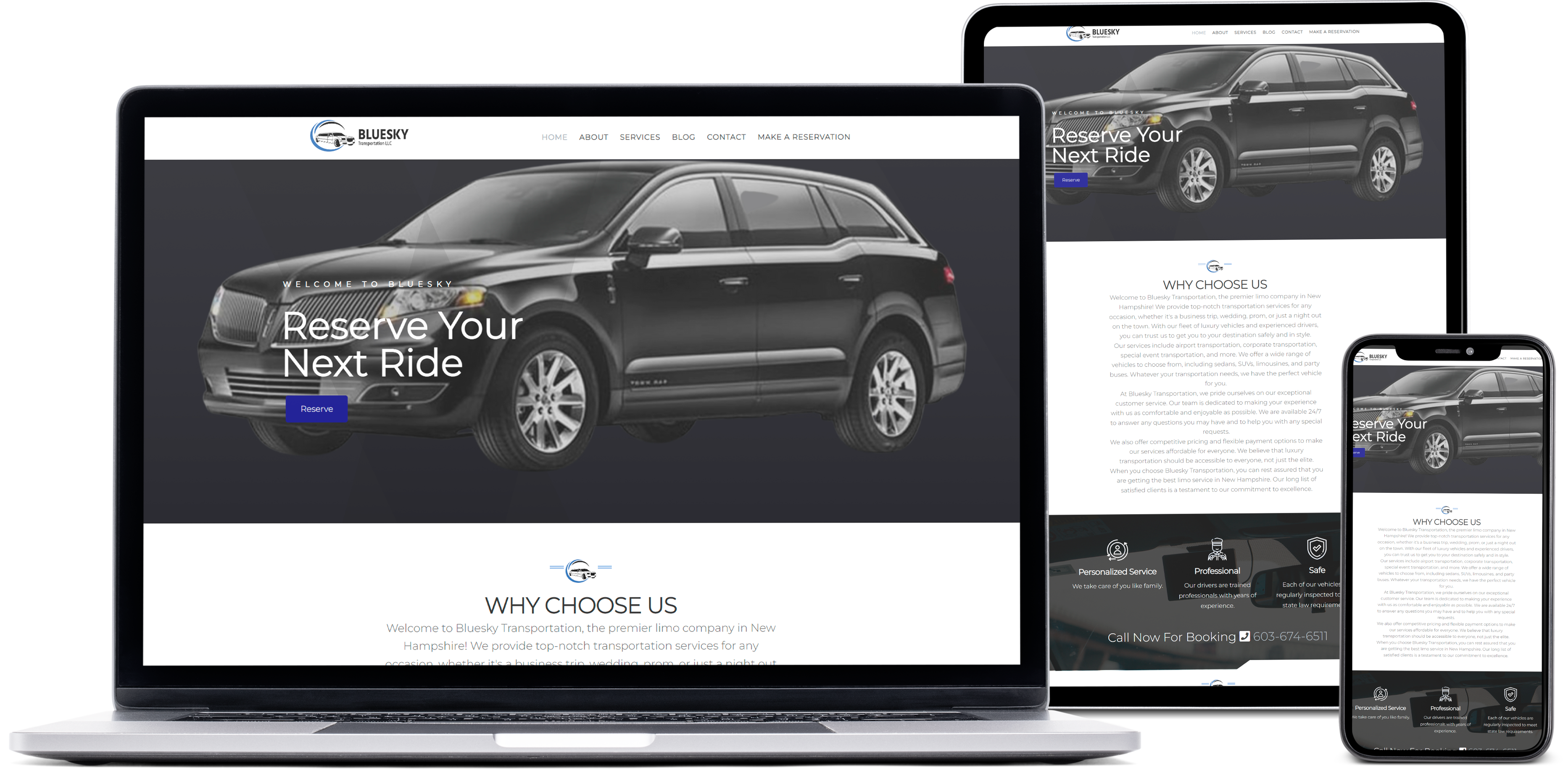 Challenge:
The COVID-19 pandemic resulted in a decline in customer bookings, which made it difficult for Blue Sky Transportation to stay afloat. Additionally, the company's website was outdated and not user-friendly, which posed challenges in attracting new customers and retaining existing ones.
Solution:
Tinktanc started by analyzing Blue Sky Transportation's business, target audience, and competitors thoroughly. Based on the analysis, Tinktanc recommended a rebranding strategy to create a new identity that resonated with the company's target audience. To redesign and restructure the website, Tinktanc collaborated with the company to understand its customer booking process and identified areas for improvement.
A new website was designed with an optimized user experience that made it easy for customers to book reservations and navigate the site. The website was also optimized for search engines to increase visibility and attract more customers. To drive traffic to the new website and increase customer bookings, Tinktanc ran social media marketing, email marketing, and SEO campaigns. The social media marketing campaign aimed to build Blue Sky Transportation's brand identity, increase social media presence, and drive traffic to the website. The email marketing campaign targeted existing customers with exclusive offers and promotions to encourage more bookings. The SEO campaign focused on improving the website's search engine rankings by optimizing its content and technical elements.
Results:
After launching the new website and digital marketing campaigns, Blue Sky Transportation experienced a significant increase in website traffic and customer bookings. The modern design and user-friendly interface of the website helped improve the customer booking experience and increase customer satisfaction. The social media marketing, email marketing, and SEO campaigns helped to increase brand awareness, drive traffic to the website, and generate more bookings.
Conclusion:
By rebranding, redesigning, and restructuring Blue Sky Transportation's website, Tinktanc was able to help the company overcome its challenges and increase revenue. The digital marketing campaigns were effective in driving traffic to the website, increasing brand awareness, and generating more bookings.
Project link: